Supriyo Tagore, the great-grandson of Satyendranath Tagore, Rabindranath Tagore's brother, has been both a vanguard and a gatekeeper of Shantiniketan's legacy for more than six decades. He was a student of Visva Bharati University, the institution that Tagore founded that's now a central university, and the longest-serving principal of Patha Bhavana school, Tagore's celebrated ashram system school. He now oversees Sisu Tirtha, an institution primarily catering to economically disadvantaged students around Shantiniketan. No Shantiniketan story is complete without his insights.
Yet, his response to the UNESCO World Heritage tag for Shantiniketan is guarded. "I am really happy about the tag but we have to realise that Visva Bharati is no longer Tagore's university, neither is this town. We have gone way too far from Tagore's philosophy in this day and age. For better or for worse, the future of this town relies on the shoulders of its young entrepreneurs," says Supriyo.
As you find your way around the maze of Shantiniketan's narrow bicycle paths that are now battered by zooming e-rickshaws (locally called 'totos') it's evident how ideas inevitably mutate into banal concrete towns. When Tagore founded the ashram in 1901 that later came to be known as Path Bhavana in 1925, Shantiniketan was an experiment. Its philosophy is simple — learning in closeness to nature without any superficial barriers between teachers and students.
Owners of Shantiniketan's quaint two-storied bungalows will tell you how Gurudev (Tagore) didn't want any building to be taller than the trees of the area as that would hinder the view of the horizon. The roads are narrow because they are not meant to be motorable. Every aspect of the town can be described by a Rabindranath Tagore philosophy. But not anymore. The outskirts of the town are dotted with posh housing societies much taller than any tree in the vicinity. Then there are resorts, many named after Tagore's literary works — "Geetanjali", "Gitobitan" and, hilariously, "Noshtonir" (The Broken Nest). Yet, it would be a lazy conjecture to write-off the future of this weirdly anachronistic town. Not only because of its shiny new UNESCO heritage tag.
New Platforms
Bidisha Tagore, another descendant of the Tagore family, was a student of Viswa Bharati in the 1980s and specialised in ceramics and pottery. She shifted back to the town in 2019 and decided to open a homestay, Amoli, with her partner. "I did this because I feel new avenues of expression need to open up in this town. Of late, the authorities of the university have become very constricted in their outlook. Visitors cannot walk in without permission, they cannot interact with the students. This goes against the inclusive philosophy of the place. I opened a cafe here which doubles up as a performance arena so that there is healthy exchange of ideas. Then there are places like Arthshila, a centre which engages with audiences through lectures, free film screenings, performances and even good old Bengali adda," says Bidisha. Indeed, any regular will tell you that in the past few years, especially after the pandemic, the town has seen many new initiatives that don't really fall under any box.
Barun Chattopadhyay, for instance, is not a Shantiniketan insider. He was raised in Uttarpara, a bustling suburb of Kolkata, home to Hindustan Motors that produced the legendary Ambassador cars. Yet, in many ways, Chattopadhyay is truly living Tagore's philosophy. His "printing press" is the talk of the town.
Upasana Griha (Prayer Hall) used by the students and staff of Visva Bharati in Shantiniketan. (Express photo by Shashi Ghosh)
Ask people about new initiatives of Shantiniketan, and four out of five will mention Barun Da's printing press. The workshop is a back-breaking toto ride away from the heart of the town. It is surrounded by rice fields on one side and a barricaded strip of land which has been a matter of concern for Chattopadhyay for some time. "They want to build a resort here. They have installed a CCTV camera on an empty piece of land, they will destroy the peace of the area," says Barun, who himself is a new entrant here. His workshop-cum-residence was built as recently as 2019, but it already is a local landmark. "Villagers come here to drop off dead banana plants from their farms and I am happy to take them," says Chattopadhyay, who fashions handmade paper out of them.
"When I shifted here, I was guided by one core philosophy of Tagore. A person should be self-sufficient enough to grow his own food, do everything for himself. That is what I apply here too. Everything I need to make paper is available within a few hundred meters of my house," says Chattopadhyay, who runs the printing press with Khokhon Bor, 32, another Viswa Bharati graduate, who uses fibre from pineapple leaves, barks of banana plants, sugar cane and even mulberry to make paper.
Chattopadhyay says the course in printing offered by Viswa Bharati is one of the best in the country. "A lot of bright young students from there are doing great work. In fact, I myself have worked with that department. I feel the Shantiniketan of today will greatly benefit if we can find ways to open things up more," says Chattopadhyay who frequently collaborates with students of Viswa Bharati.
Seyati Chowdhury, 32, who runs an initiative called Dorji, echoes the sentiment. "It's almost fashionable to be dismissive about the new generation. People keep saying Shantiniketan is not what it used to be before. Yes, it has changed, but one has to embrace change too. I feel one needs to scratch the surface to understand that not everything is bleak," says Chowdhury, whose initiative of naturally dyed fashion apparels found a lot of takers during the pandemic. "People saw my Instagram page and they probably liked it. They wanted to know how I use flowers for printing and dyeing but this is nothing new. Rabindranath Tagore had pointed out how local indigenous women would use palash and siuli flowers to dye their sarees," says Chowdhury, who works with about ten local artisans.
A gate to the way leading to Shantiniketan Bari. (Express photo by Shashi Ghosh)
Her newly opened studio looks like a remodelled garage, but it has enough space to host other creative people. Like Tamal, who makes jewellery out of scrap materials. "Every young entrepreneur here tries to help each other. We really want each other to shine," says Tamal.
Sure enough, every new-age, indigenous fashion label owner in Shantiniketan almost instinctively recommends another label, even when they are direct competitors. "I think we all realise that we have this responsibility towards Shantiniketan. We have to grow together for it to flourish. We have inherited this legacy, we need to take it forward," says Sreyashi Raka Das, who owns a sustainability fashion label from Shantiniketan.
A culinary legacy
This pride of this legacy resides in Amrita Bhattacharya's heart too. The 39-year-old quit her job as a professor of Bangla at Kolkata's Charuchandra College to set up an experimental food kitchen in her hometown, Shantiniketan. Her kitchen, surrounded by throbbing green rice fields, barely registers its presence on Google Maps. Her home is a happy marriage of architecture of Bengal and the south of India.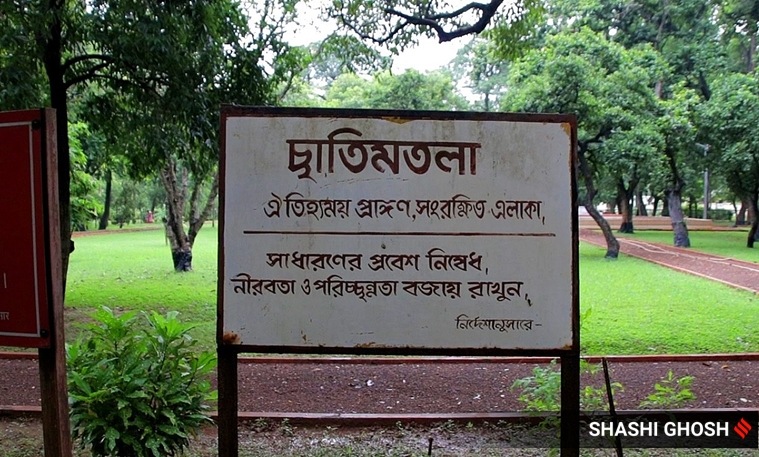 Chhatimtala, the place where Debendranath Tagore used to meditate. (Express photo by Shashi Ghosh)
"This is much in keeping with Gurudev's inclusive philosophy. The world comes together in the University campus, there is cultural and philosophical exchange, I want my cooking to reflect that" says Amrita.
The lunch she prepares focuses on her zero-waste policy. "Nose-to-tail cooking might be a fad now but we have been practising that for ages," says Bhattacharya. Nothing of the hilsa she prepares goes to waste. Including its scales, which are fried into a crispy starter, maacher aash bhaja (fish scales fry). It's a recipe she learnt from her local fisherman. "His mother, who hailed from Bangladesh, would make it for him. It's a frills-free, nutritious dish that sustains many who can't afford the fish," says Bhattacharya. She hopes that through her cooking she can create some awareness about the region's rich culinary heritage. "Young people of Bengal should know that their food is cool too," she says.
That is the overarching sentiment of the inheritors of the Shantiniketan legacy — they know being rooted and yet being open to the world is "cool". They just need the world to discover them.




If you want to register your marriage in thane visit : https://courtmarriageregistration.co.in/court-marriage-registration-in-thane

Source link